Bachelor of Vocation (B.Voc) Courses
↓ Click Below ↓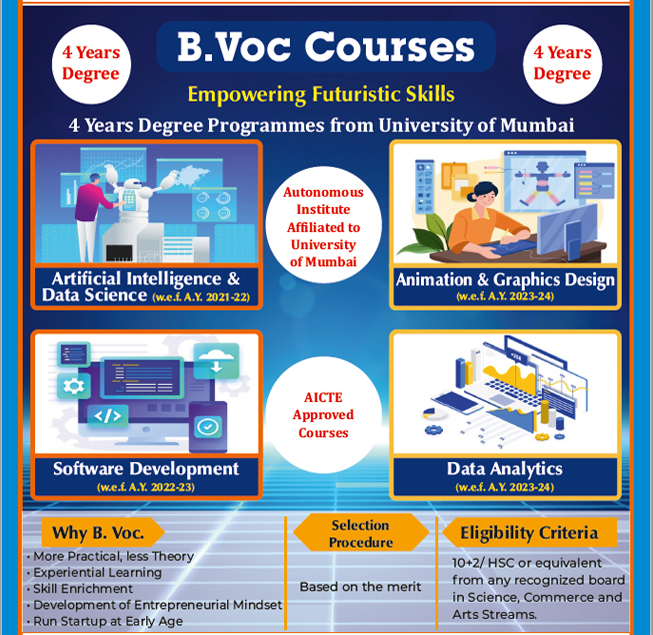 About Bachelor of Vocation (B.Voc) Courses
The Vocational Educational Programme mainly focuses on job-specific skills rather than Broad-based education. The main objective of this programme is to enable the students to acquire skills and learn the fundamental technologies by engaging theme in on-job training of the industry along with the theory in academic serene. The Vocational Course Programme is a 4 year programme (8 semester) where concepts are supported by practicals
Artificial Intelligence and Data Science (Intake:60)

In the emerging Data Economy, Data Scientists are responsible for finding better ways to analyze and process information to create new opportunities and improve efficiencies. Various job roles in the field of 'Artificial Intelligence and Data Science' are Data Analyst, Data Engineers, Data Scientist, Data Architect, Statistician, Database Administrator, Business Analyst, Business Intelligence Developer, Machine Learning Engineer, AI Engineer. According to Analytics Insight, the global market of Big Data is forecasted to grow from the US $179.6 billion in 2019 to the US $301.5 billion in 2023.
Job Profile : Data Analyst | Data Scientist | Software Engineer | AI Engineer | Business Intelligence (BI) Developer | Big Data Engineer | ML Engineer | Business Analyst.

Animation & Graphic Design (Intake: 30)

This programme features real world production techniques, getting students ready to make their mark on the growing 3D animation industry. students will learn how to bring their own animations to life using the software packages used for major production houses and top selling video games. Our programme starts by getting students familiar with art concepts for animation, drawing, sculpting and other traditional forms which are used for getting their art in the computer. Students will also learn the basic principles behind computer generated models, characters, animation and visual effects. Then they will put those principles to use, just like animation, games, commercials, TV shows and films.
Job Profile : 3D Modeling Artist | Texturing Artist | Rigging Artist | Animator | Render Artist | Flash Animator| Art Director| Videogame Designer.

Software Development (Intake: 30)

Some of the top posts that students can opt after completion of this course include Application Developer, Web Developer, Software Tester, Algorithm Designer, UX and UI Designer and many more. This course aims at training students practically and theoretically in all the domains that are included in Software Development and Computer Science. Software Developers can get into Government and Private Enterprises such as Application Development, User Interface Development, Software Coding, Software Testing, Software Analysis, etc. There are ample job opportunities for B.Voc Software Development degree holders in Government as well as Private sector.
Job Profile : Associate Software Developer | Web Designer |Database developer | Database Designer | Business Analyst | Networking Manager | Database administrator | Consultant/ Sr. Consultant | Technical Software Architect (Manager) | Software Team Lead.

Data Analytics (Intake: 30)

B.Voc (Data Analytics) is a specialized undergraduate program designed to equip students with the skills and knowledge required to excel in the evolving field of Data analytics. One of the notable advantages of the B.Voc (Data Analytics) course is its industry relevance. The courses are aligned with NASCOMM and Sector Skills Councils (SSCs) and are regularly updated to align with the latest trends and technologies in the field of Data Analytics. This ensures that students are equipped with the most up-to-date knowledge and skills required by them. The curriculum encompasses 40% knowledge component and 60% skill component. This course offers a comprehensive and practical education in Data Analytics. Some of the core course offered are SQL for Data Analysis, Web Development, Web and Social Media Analytics, Machine Learning, Big Data Analytics and Cloud Computing, Analytical tools, such as Data Visualization, Predictive Modeling.
Job Profile : Data Analysts | Business Analysts | Data Scientists | Data Engineers | Business Intelligence Analyst.