Recognition & Awards
"We shape our institution and our institution shapes us", Winston Churchill.
'Quality is not an act but a habit' is a maxim that Thakur College of Engineering & Technology (TCET) has identified with right from its inception in the academic year 2001-02 from its well-designed and wellexecuted systems and processes.
Quality in Education leads to
Development of intellectual skills and knowledge
Contribute to society through productive and satisfying engineering careers
Instill commitment to sustainable development
Perform world class research to advance the frontiers of knowledge.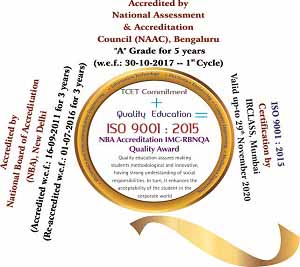 An opportunity to lifelong learning and practice
Provide innovative solutions through research, consultancy and continuing education for satisfying current and future industrial and R&D needs
Extend expertise towards improvement in the quality of technical education
Achieve excellence in the support services of the institute through continuous improvement and teamwork.

Quality Policy:

We, the Staff, Faculty and the Management of Thakur College of Engineering and Technology, are committed to provide state-ofthe- art infrastructure and facilities, conducive academic environment to deliver Quality Technical Education to our students.

We shall work as a team and interact with the students in pro-active manner to achieve our Institutional Quality Objectives and fulfill all academic and regulatory requirements to continually enhance the satisfaction of our students.

---

TCET Achievements:

68th & 78th rank in All India Rating by Outlook survey published in June 2019 & May 2018 respectively .
Institute is ranked among top 200 colleges in the country where the institute is ranked 193rd in NIRF India Ranking 2019 in Engineering category.
AICTE CII Survey

2018: Institute- "Platinum" (High) Category
2017: Institute- "Platinum "(High) Category
2016: Institute- "Platinum" (High) Category
2015: CMPN-IT - "Platinum" (High) category
2014: CMPN-IT & EXTC-ETRX- "Platinum" (High) category
2013: CMPN-IT - "3" (High) category, EXTC & ETRX- "2" (Medium) category

ISO- The institute is certified for ISO 9001:2015 w.e.f. Jan 2018 onwards.
NBA Accreditation- Undergraduate Programs of EXTC, IT, CMPN, and ETRX are accredited by National Board of Accreditation, New Delhi w.e.f. 1.7.2019 for 3 years which is extended upto 30.6.2022 in the current academic year.
NAAC Accreditation: The institute has been awarded "A" Grade by National Assessment and AccrediationCouncial (NAAC) for 5 Years w.e.f. 30-10-2017.
IMC Ramakrishna Bajaj National Quality Award (RBNQA): TCET has been awarded with IMC Ramakrishna Bajaj National Quality Award (RBNQA) for the year 2015 and it has also received Ramakrishna Bajaj National Quality Award (RBNQA) Commendation Certificate for the year 2012 for performance excellence in the education category
Emerging Institute - AICTE- CII Survey: Featured in the AICTE-CII survey as an emerging private engineering and constantly rated high since 2013 onwards.
Winner of Asia Pacific Quality Award (APQA) for best in class award in education category from Global Pacific Quality Award (GPQA)
National Programme on Technology Enhanced Learning (NPTEL) TCET is gearing up to the zenith of success by bagging 31 nd rank with "AA" Ranking amongst more than 1000 engineering colleges. It has been ranked 2 in Mumbai and 4th in Maharashtra state and has also been tagged as Active Local Chapter in Academic Program 2017-18.


'Quality can never be the destination but will always remain a journey' - In the time to come the institute will strive to bring many more such glories through the continuous journey of quality education.